Speaking

Recent Talks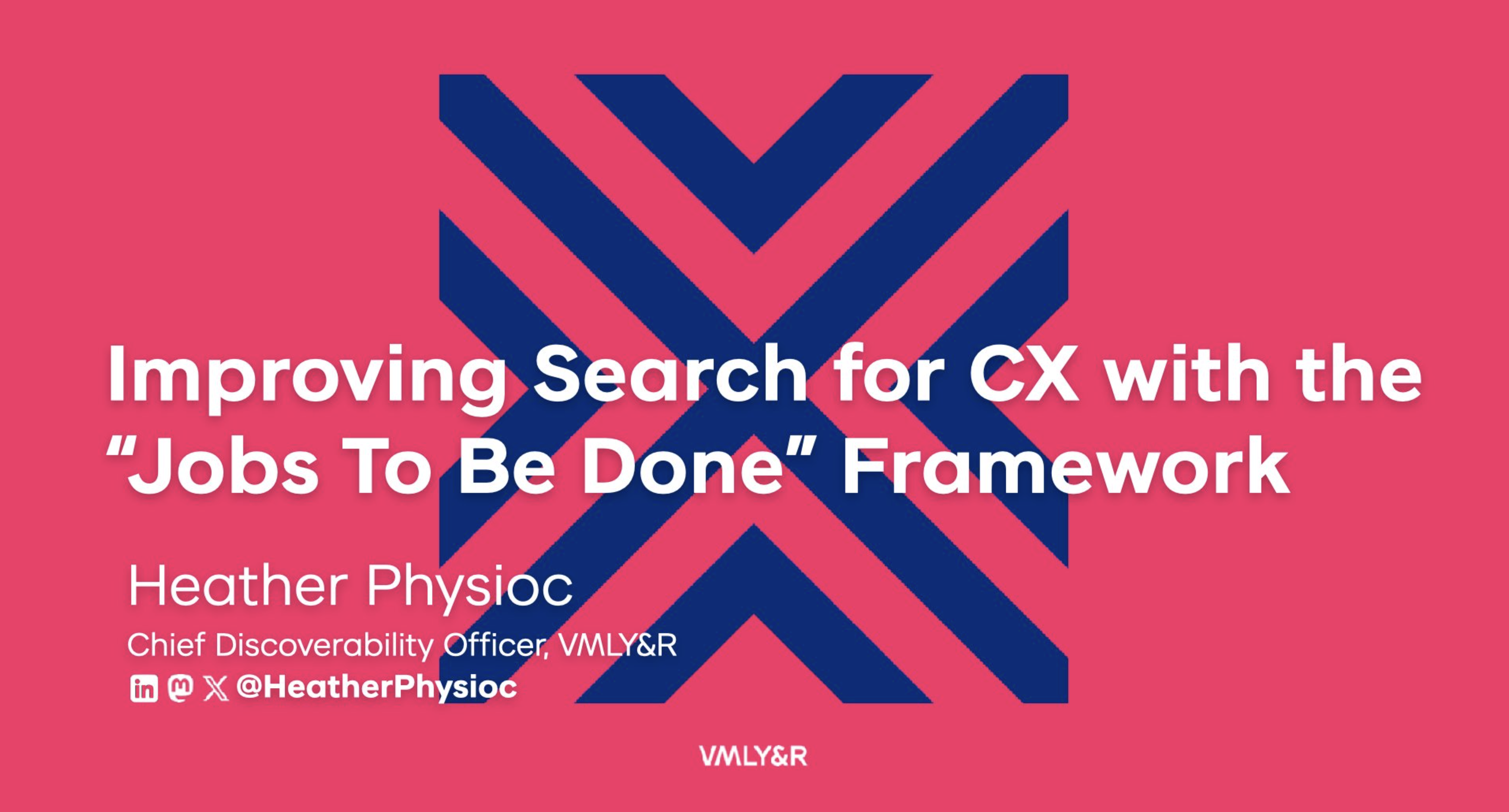 Improving Search for CX with the "Jobs To Be Done" Framework
Know me, understand me, serve me. Learn how search fits into a Customer Experience (CX) framework to create value at every stage of a connected journey – even as the search experience becomes more fragmented. Heather Physioc, Chief Discoverability Officer at VML, will share how to tap into the goldmine of search data to reveal themes, trends, and truths about audiences and their behaviors to shape richer CX journeys. This actionable framework can help you use search data to validate and challenge customer journeys, benchmark and measure CX performance, and provide customers with more of the value and ease they expect at every interaction.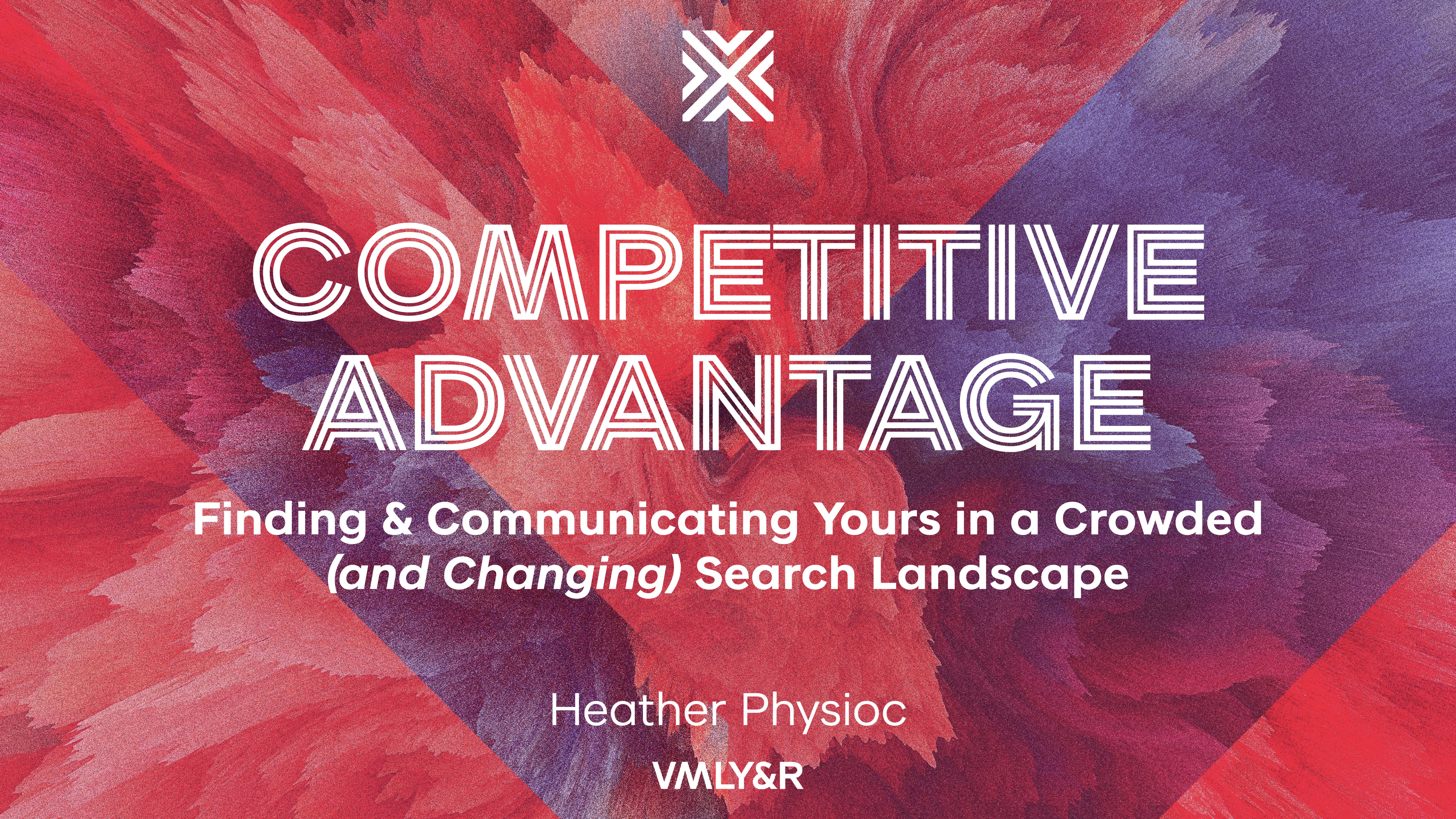 Competitive Advantage: Finding & Communicating Yours in a Crowded & Changing Search Landscape
SEO isn't dead — it's commoditized. In a world where search companies are a dime a dozen and brands tout bland "unique selling propositions" that aren't unique at all, how can you avoid drowning in the sea of sameness? What are you doing that's any different from every other firm? In this talk, you'll learn how to find, activate, and articulate your competitive advantage. Learn how to identify unique strengths and innovative offerings that equate to competitive advantage through these real, working examples so you can bring them to life in search. You'll leave with actionable tips and homework to help your search business stand out — and that you can use with clients to help them find their competitive edge, too.
Speaking History
| | | | |
| --- | --- | --- | --- |
| EVENT | LOCATION | DATE | DOWNLOADS |
| Digitalzone | MENA | November 2023 | Digitalzone 2023 |
| BrightonSEO USA | San Diego, USA | November 2023 | BrightonSEO USA 2023 |
| Webbdagarna | Stockholm, Sweden | April 2023 | |
| Friends of Search | Amsterdam, Netherlands | March 2023 | |
| DigitalZone | Istanbul, Turkey (Online) | December 2022 | |
| BarbadosSEO | Saint John, Barbados | November 2022 | |
| Atlassian Team '21 | Worldwide (Online) | May 2021 | |
| In Marketing We Trust | Australia, Singapore (Online) | February 2021 | |
| SEOcon | Jakarta, Indonesia (Online) | February 2021 | |
| Drupal FlyOver | Kansas City, USA (Online) | September 2020 | |
| MozCon | Seattle, USA (Online) | July 2020 | |
| BrightonSEO | Virtual Summit (Online) | May 2020 | |
| PubCon Austin | Austin, USA | February 2020 | |
| BrightonSEO | Brighton, UK | November 2019 | |
| SearchLove | San Diego, USA | October 2019 | |
| SearchLove | London, UK | April 2019 | |
| MozCon | Seattle, USA | July 2018 | |
| SEMPO Cities | Kansas City, USA | Spring 2018 | |
| MozCon | Seattle, USA | July 2017 | |
| MozCon Local | Seattle, USA | February 2017 | |
| KCDMA Summits | Kansas City, USA | 2017-2020 | |
| PRSA Omaha | Omaha, USA | 2016 | |
| TEDxWomen KC (Host) | Kansas City, USA | 2016 | |
| PRSA Mid-Missouri | Columbia, MO, USA | 2015-2016 | |
| KCSEMA | Kansas City, USA | 2015 | |
| WordCamp | Kansas City, USA | 2015 | |
| AACS | Phoenix & Orlando, USA | 2010-2014 | |
Other work:
PAST LECTURES: University of Kansas School of Journalism, University of Missouri School of Journalism, Rockhurst University
PRESS QUOTES & COVERAGE: Advertising Age, Forbes, Digiday, CampaignUS, MediaPost, 4As, Shots, LBB, Kansas City Star, Glass Digital, Kansas City Business Journal, the national Business Journals.
PODCAST INTERVIEWS: Experts on the Wire, Adventure Outdoors Series, ZipSprout, Behind the SEOs, RC Squared, Human-Centered
Talk Recordings